Transport solution
Batch transport: long-haul travel with complete peace of mind
As a professional in batch transport, unforeseen events are never good news. You need long-term visibility and transport solutions that limit your expenses and enhance driver loyalty. Discover the products and services offered by Renault Trucks to boost profitability and make management easier.
Renault Trucks C: the perfect vehicle for boosting productivity
The Renault Trucks C range was designed for long-haul travel. It is the best-suited vehicle for batch transport. The Renault Trucks C model offers reliability, high performance and incredible comfort. When combined with Renault Trucks' services, you can boost your business' profitability and increase uptime. The Euro 6 engine ensures high commercial speed and excellent driving comfort, whilst limiting pollution and fuel consumption.
Long-haul transport: comfort before all else
Those who drive long distances are passionate about being on the road, and about their job. They spend countless hours behind the steering wheel, which means on-board comfort must meet their highest expectations. When loading their belongings, especially heavy items, they can use the outer boot and access it from the inside. Once on board, the advanced cab offers perfect visibility and makes manoeuvring easier when loading and unloading.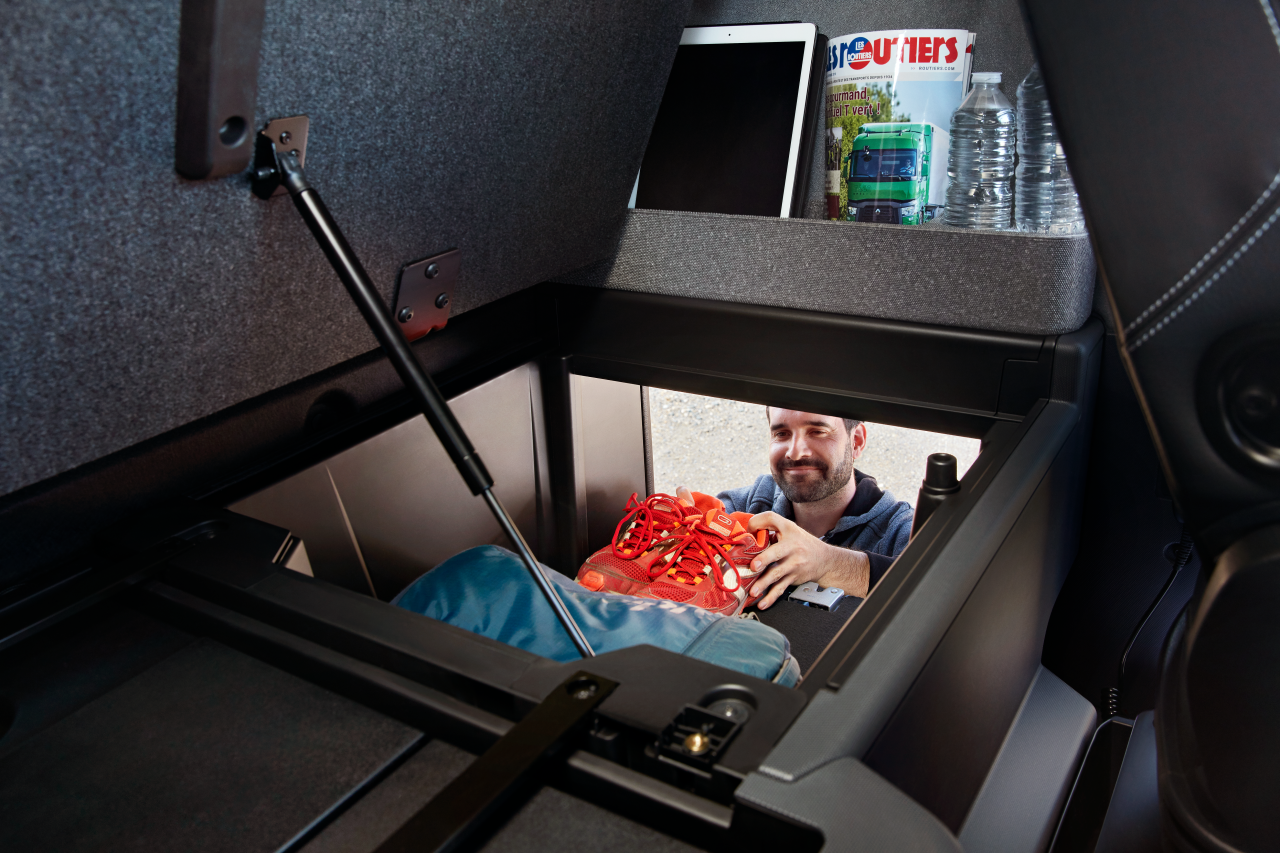 The Renault Trucks T High cab boasts a perfectly flat floor and a 6.6 ft. ceiling height to make movement easier, as well as an 8.2 ft. wide sleeping area. A 40-litre silent electric fridge can be placed in the space between both front seats, and a folding table can also be installed (maxispace cab).
Many other Renault Trucks accessories are available to enhance comfort or safety - such as an air-pressure gun to quickly clean the cab, an anti-theft anti-siphoning device, or a Doorlock anti-intrusion device which may prove extremely useful at night.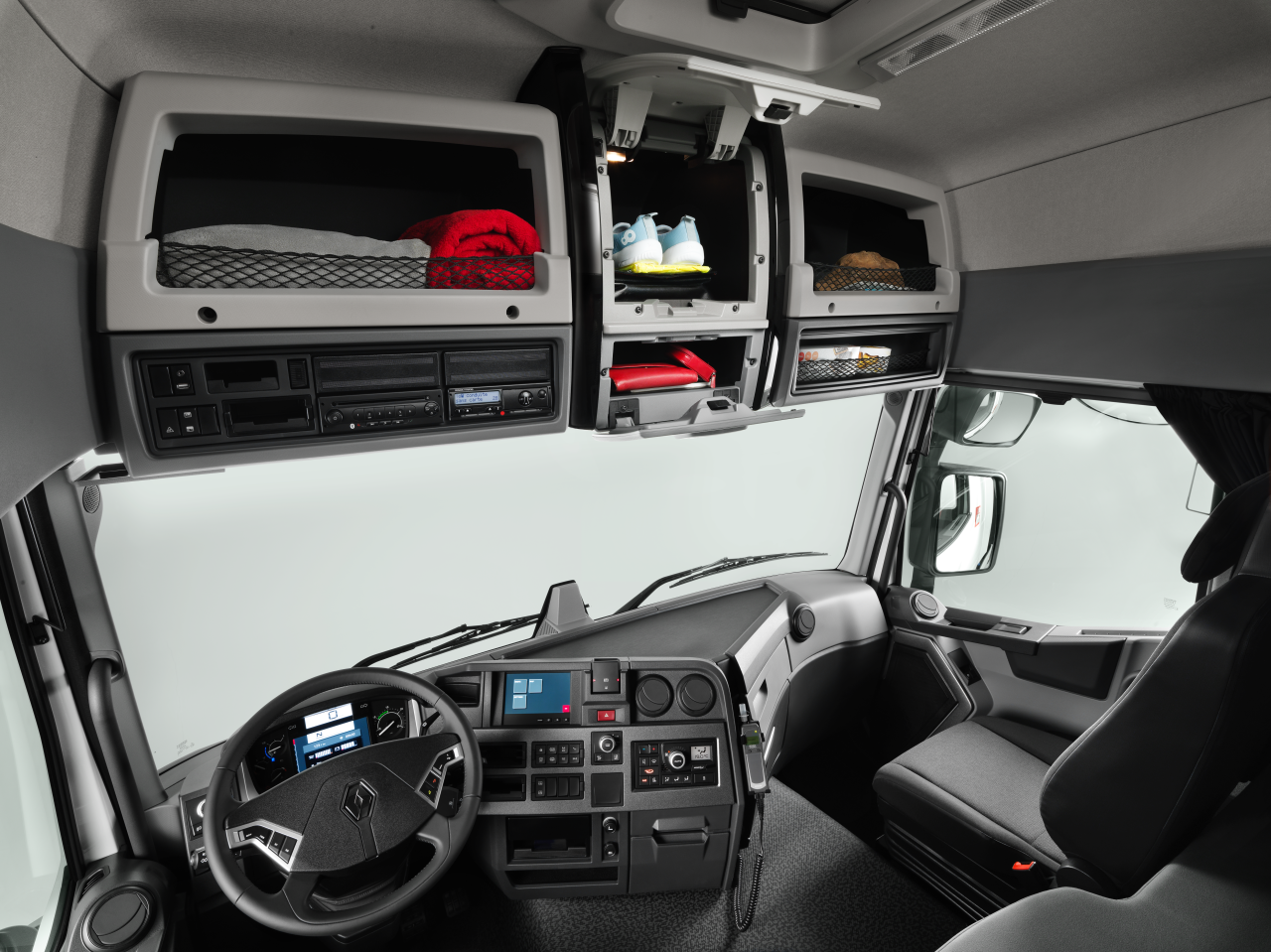 Spread your costs out in the long-term
In the field of long-haul transport, any logistical issues can have major repercussions. In order for you to spread out your expenses and limit any unforeseen events, Renault Trucks offers Start&Drive contracts which include a personalized maintenance plan ranging from 2 to 5 years and up to 155,300 miles per year - depending on the vehicle selected and its usage. As such, you can reduce your immobilisation costs, make administrative work easier, and ensure high vehicle performance on the long term.
Furthermore, thanks to its extensive network in France and Europe, your vehicles can be looked after quickly and efficiently without needing to return to their home base.
As vehicle availability is so crucial for batch transport, Renault Trucks innovated with its dynamic and proactive maintenance service: Predict. Your truck is registered in a dedicated database that tracks its usage and wear. When an intervention is required, your advisor will contact you to schedule an appointment before the breakdown occurs, and at a time that will least affect your activity.
Reduce your fuel costs
Vehicle consumption and usage by drivers have real and direct effects on your accounts. Renault Trucks vehicles are developed to consume as little as possible. The Renault Trucks T cab has a trapezium shape and a 12° slanted windscreen to enhance air flow and reduce consumption. Our DTI 11 and DTI 13 engines were also designed to provide good commercial speed.
The Renault Trucks T or T High models can have other options added to them, making them even more high-performant, thanks to their Eco Fuel pack which includes:
An Eco Cruise Control mode on the Optidriver automatic gearbox

A detachable air compressor

A variable steering pump

Automatic engine stop
Nonetheless, we all know that consumption does not only depend on the vehicle, but also on how it is driven. Training drivers in efficient driving plays a major role in reducing your entire fleet's consumption. To help you with this, Renault Trucks has its Optifuel solutions available. You can have access to extremely precise consumption data for all your vehicles, as well as information about how they are being used.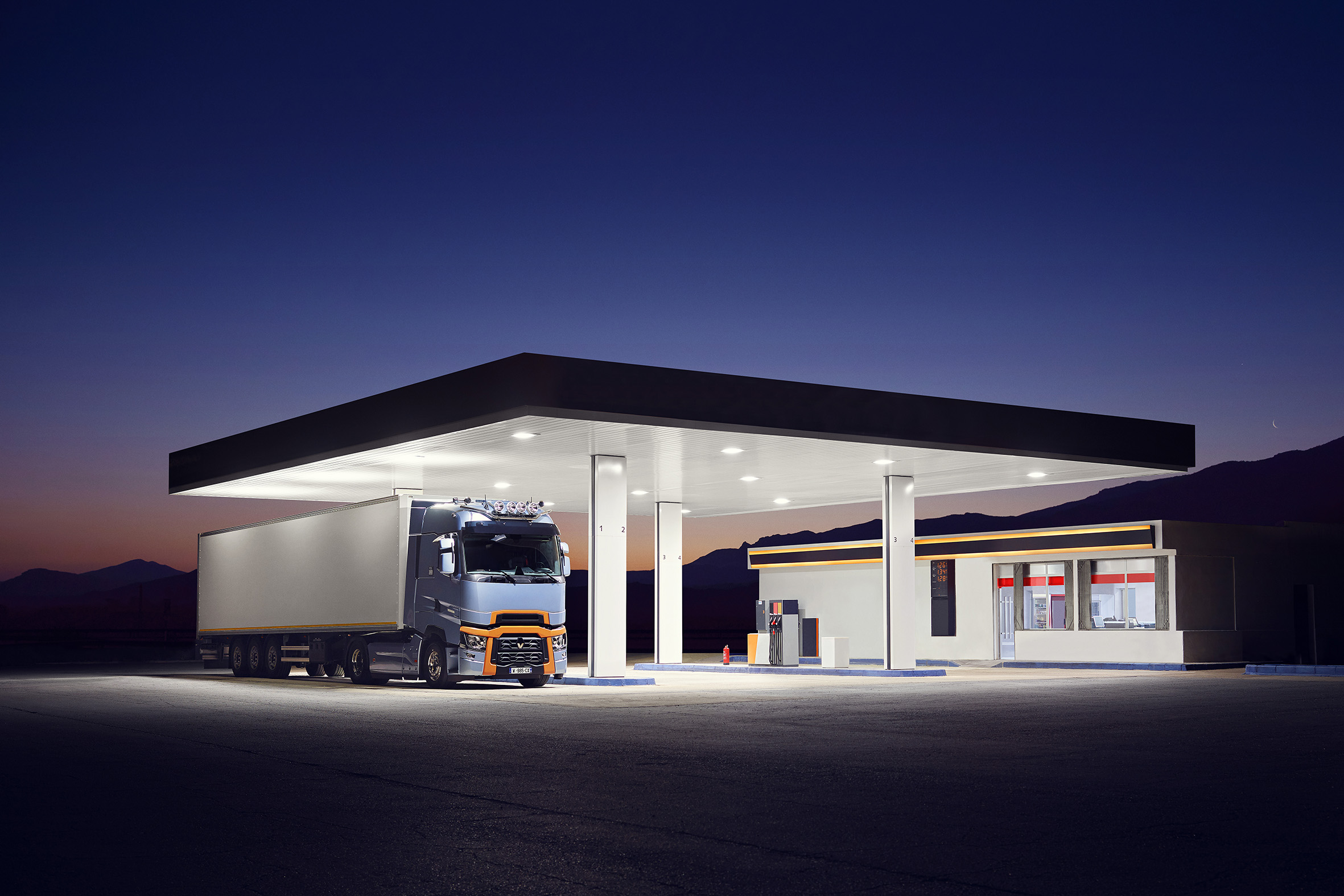 FOR MORE INFORMATION, CONTACT US!