Services
Renault Trucks, an expert network
ALWAYS CLOSE TO YOU VIA THE RENAULT TRUCKS NETWORK
With 1,400 service centres across Europe, Renault Trucks comes to your aid quickly and efficiently, wherever you are.
A NETWORK OF PROS, FOR PROS
You can count on the professionals in Renault Trucks service centres, regularly trained in the latest diagnostic tools and equipped with specific and efficient equipment adapted to cater for your vehicle's technology.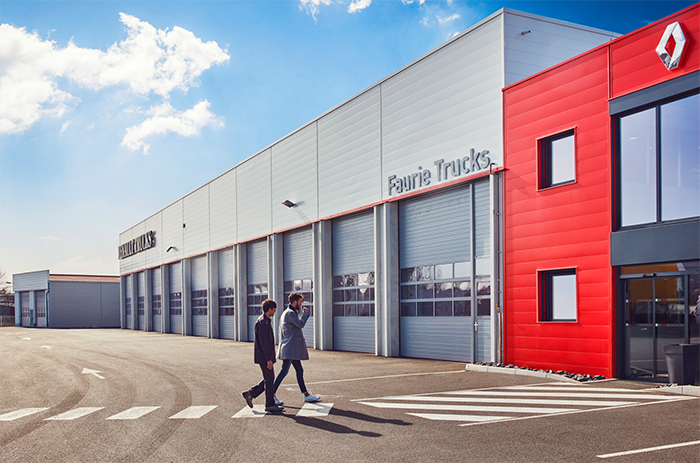 THE GENUINE OFFER: RENAULT TRUCKS ORIGINAL PARTS
Spare parts designed and approved for Renault Trucks vehicles meet the most demanding standards in terms of reliability, safety and environmental criteria. This means complying with the most stringent specifications in terms of reliability, safety and environmental standards, so that they can perfectly integrate into your truck's mechanical environment. Our spare parts maintain your vehicle's original performance to meet the requirements of your business: mobility, meeting deadlines and safety.
THE EXCHANGE OFFER: THE RENAULT TRUCKS STANDARD EXCHANGE OPTION
The standard exchange process involves replacing worn or deteriorated parts with certified original parts, allowing the vehicle to regain its original performance by means of this industrial renovation with its benchmarked characteristics. This activity is part of the company's sustainable development policy based upon recycling spare parts.
Excellent quality / price ratio.
Quality and performance meeting the same requirements as new products.
Reliability of parts designed and approved for Renault Trucks vehicles.
2,000 reference items to meet your primary needs.  
A fully skilled network with global coverage. 
THE EXTENDED OFFER: COMPLEMENTING RENAULT TRUCKS SPARE PARTS
To facilitate your rig's maintenance and repair, Renault Trucks has now developed an option complementing its original offer: eXtended.
OVER 300,000 ITEMS TO MEET YOUR NEEDS
Workshop equipment, tools, and consumables: lifting tools, welding equipment, paint guns, personal protective equipment, straps, etc.
Chemical products: hygiene products, washing, cleaning, air conditioning cleaners, deodorants, etc.  
Electrical products: cables, pre-insulated lugs, connectors, phasing equipment, etc.
Accessories and miscellaneous: hands-free kits, license plates, telephone connections, etc.
Semi and superstructure: jaws, hubs, callipers, etc.
WHAT DOES THE EXTENDED OFFER BRING YOU?
Best value for money
Reduction of your vehicles' downtime 
High quality workshop products
Selected partners to enhance your professional expertise
 The eXtended offer is co-constructed with a list of carefully selected suppliers based on the following assets:
Premium quality products
Suppliers and products specifically selected to meet market needs
A network of professionals for professionals who know how to cater to each of your needs  
OUR 2-YEAR WARRANTY
Renault Trucks original parts are proof of our long-term commitment to you and your business: maximum uptime and at least 12 months warranty, extended to 24 months if installation is carried out by a qualified technician; giving you complete peace of mind.
2-YEAR WARRANTY ON SPARE PARTS FITTED BY A QUALIFIED TECHNICIAN
 You can be sure that our approved Renault Trucks workshops will only install original Renault Trucks parts. All maintenance work is carried out by our qualified technicians who are constantly trained to keep up to speed with the latest technological developments. Our workshops are equipped with efficient diagnostic systems, a full range of specialized tools and the latest documentation. The 2-year warranty on spare parts offers you ideal protection and excellent value for money.
Please contact us if you have any questions regarding our network and spare part deals.